Hmm, maybe there is more to it.
A simple example:
If we have only two teams and two players in each team and assume our player's win rate is same for all the opponents and call them p and q. Then our probability of winning is pp + p(1-p)q + (1-p)qq which is symmetric in the way that if we swap p and q it has the same value.
A different example:
If we instead have three teams but this time we have two players with same p, q probabilities as before but the other teams have a single player. Then our probability of winning is pp + p(1-p)q + (1-p)q, because the other teams eliminate a player when p loses. We can simplify this to pp(1-q) + q.
Let p:=c-x and q:=c+x and we can write a function f = (c – x)(c – x)(1 – c - x) + c + x that is our team's probability of winning this tournament if the players win probability is separated by x around a mid point c.
Let's be the cool kids and use Wolfram Alpha.
Attachment:
Screenshot 2022-08-26 085525.png [ 80.84 KiB | Viewed 5703 times ]
Maybe I made some mistakes (probably) but here goes!
It really looks like placing the better player last is better. It is also interesting that the winning probability for the team increases when the players have more different win rates. Here is a
wolfram alpha
link for the graph.
The graph shows how the team's wining probability (the y-axis) changes depending on the difference of the players' win rates from the team's average. I fixed the team's average at 70% because it gives a good curve. If you look at the graph you can see that if x = 0.1, that is there is a player with 60% win rate that goes first and a player with 80% win rate that goes second, the team's probability is around 87% in this case. If in stead you look at x = -0.1, which swaps the players so that the 80% player goes first and the 60% second, then the team's probability is less than 86%. This is not much difference but let me throw in a plot of a more realistic case when the average win rate is 50%, in this case ordering the players really does matter a lot because the curves low point is on the left side of the axis.
Attachment: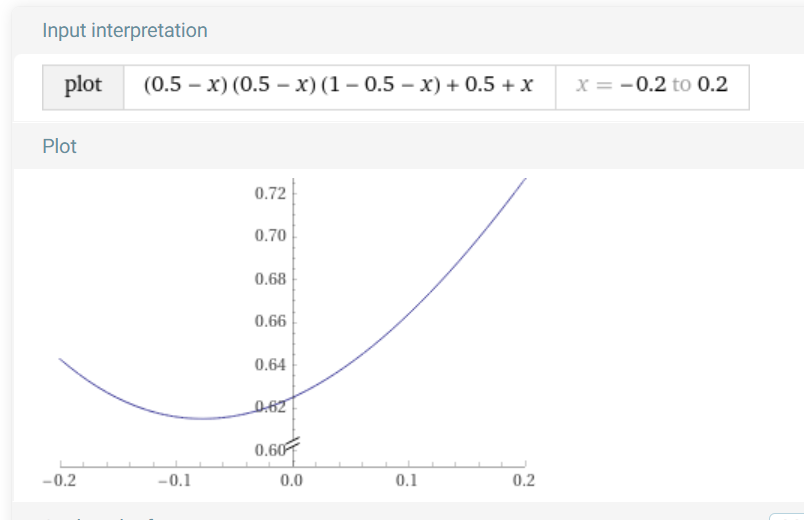 Screenshot 2022-08-26 092000.png [ 35.69 KiB | Viewed 5703 times ]