CDavis7M wrote:
There's also a misunderstanding of which stones are dead and which are alive. I have no idea what rules the players are reading but
https://www.nihonkiin.or.jp/match/kiyaku/
is pretty clear when it describes "黒六子" (for example) as compared "黒一子". I don't think divination from the Green Goddess is required to understand dame in seki or that territory surrounded by one player's living stones isn't dame.
----------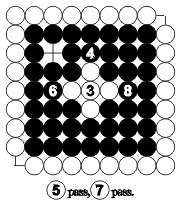 I have to wonder what Black is trying to prove here. This is not how life and death confirmation works.
Black simply tries to find out whether his just captured single stone in the centre of the board was "alive" or "dead".
BTW, this stone is clearly "dead", as capturing it cannot "enable" anything.
Quote:
----------
Quote:
Now, for the purpose of testing for the right side's white string whether it is capturable-alive, Black needs to do both of the following: capture that particular string and prevent White from getting a permanent-stone anywhere on the board.
Nope. This also isn't how life and death works. The example doesn't make sense under the Rules. I think the discussion of "enable" shows the culprit for the misunderstanding of the Japanese Rules.
Is this [https://www.cs.cmu.edu/~wjh/go/rules/Japanese.html] where "enable" is coming from? I am not sure that it a perfect translation (hint: there is none when translating Japanese to English because Japanese particles do not match English words). Perhaps I'd need divination from the Green Goddess to find the right interpretation of 取られても新たに相手方に取られない石を生じうる石, but it is easy enough to see that the "enable" interpretation in "j1989c.html" is wrong. I'm not saying that "would enable" is wrong, though maybe it is misleading, just that j1989c's interpretation of "enable" and its corresponding discussion is misinterpreting the rules.
----------


Quote:
the empty point D is not an eye point because it is not (!) surrounded by the live stones of just one player - instead it is surrounded by dead white stones. Since D is not an eye point, it is a dame.
Must be kidding right? The point D is only surrounded by living stones of one player. The other player's dead stones are not part of the consideration. Maybe this misunderstanding is a result of confusion between 囲む and 交点/ 存在/取り.
----------
Shouldn't reading comprehension demand recognition of the interpretation that provides consistency?
Why pretend that the inconsistent interpretation is right just to make believe that the author is incompetent?
J89's legal text was inconsistent from the very beginning, wasn't it? Do you want to claim that its authors were "incompetent"?

Article 8, Clause 1:
Empty points

surrounded by the live stones of just one player are called "

eye points

."

Article 8, Clause 4:
Eye points

surrounded by stones that are alive but not in seki are called "

territory

," each eye point counting as one point of territory.

Article 10, Clause 1:
After agreement that the game has ended, each player

removes any opposing dead stones

from his

territory

as is, and adds them to his prisoners.
"TERRITORY" is "EYE POINTS" (conditions apply), which is "EMPTY POINTS" (conditions apply).
Thus, "TERRITORY" cannot contain anything else but "EMPTY POINTS".
Thus, the "REMOVAL of opposing DEAD STONES" from "TERRITORY" is impossible.
The reasoning for this inconsistency is quite simple:
The definition of "TERRITORY" at a moment when the game has not yet stopped,
comes much too early
, and thus does not make sense at all. (The same is true for Article 7, Life & Death.)
"Territory" results from the combination of the results of L&D assessement. It cannot be derived earlier than that.
_________________
The really most difficult Go problem ever:
http://igohatsuyoron120.de/index.htm
Igo Hatsuyoron #120 (still unresolved by professionals, maybe solved by four amateurs, really solved by KataGo)