The following players will join seeded players in the Main tournament.
Korea:
Yoon Seongsik(a), Seo Bongsoo, Shin Minjoon, Na Hyun, Choi Jeong and Lee Youngjoo
China:
Lian Xiao, Wu Guangya, Shi Yue, Chen Yaoe, Tan Xiao, Yang Dingxin, Tao Xinlan, Fan Yuanro, Li Xuanhao, Li Xiangwi(???) and Chen Zijian(???)
Japan:
Ryu Shihoon
World:
Chang Pukang
** I am not sure if some Chinese name is spelled correctly.
Seeded players;
Gu Ziha and Tang Weixing (The last year's Winner and runner up) Ahn Kukhyun, Tong Mengcheng (3rd and 4th)
Korea: Park Junghwan, Kim Jiseok, Shin Jinseo and Lee Sedol
China: Ke Jie and Xie Erhao
Japan: Iyama Yuuta and Shibano Toramaru
Wild card will be picked after preliminary.
Main tournament;
9/4 - 9/6/18 round of 32
10/1/18 round of 16
10/2/18 round of 8
11/5 - 11/7/18 Semi Final(3 games match)
12/3 - 12/5/18 Final (3 games match)
Surprise of the day,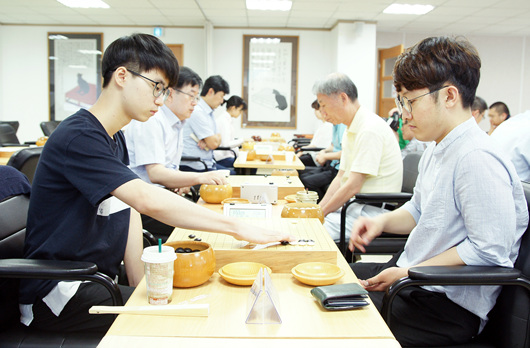 Amateur Yoon Seongsik(left) advanced to the main tournament by beating Li Zhe, Ahn Xungtao, Byun Sangil, and Song Kyusang.